Mobile sanitary systems
Best possible hygiene in field conditions. We offer a variety of sanitary units that are equipped with showers and washbasins, or with toilets/urinals and washbasins, depending on your requirements. As an option, you can save energy on your water heating by using our diesel-operated hot water modules.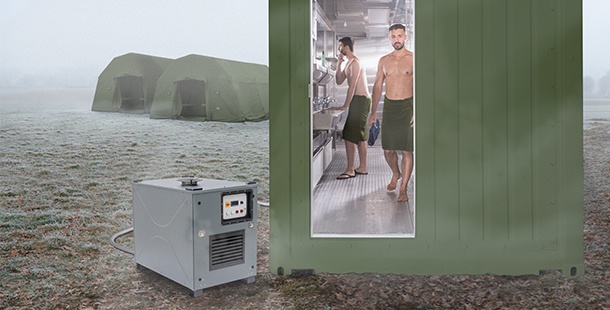 Hot water right where it's needed: with our hot water modules
In large field camps a lot of energy is needed, especially for the supply of hot water for sanitary facilities. We have developed the energy-efficient hot water module HWM 100 B precisely for this purpose. Its integrated buffer tank ensures the temperature always stays constant. Even if the incoming water varies in temperature and the usage quantities fluctuate considerably, a perfect hot water supply is guaranteed.