Mobile decontamination systems
Powerful and a definite success. For tackling different decontamination tasks, we offer mobile systems in the form of containers, trailers and platforms or as system modules. These systems come with suitable processes and technologies encompassing a diverse range of components developed and manufactured by Kärcher Futuretech to suit specific customer requirements.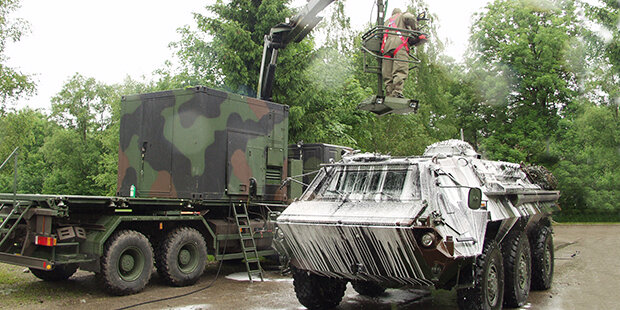 Our containers incorporate various functional components and can master different and complex decontamination jobs.
The modular and flexible cage system can be individually put together from various system decontamination modules, to manage different decontamination scenarios.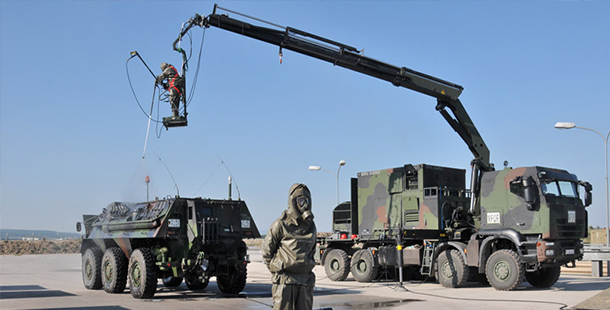 Large-scale system TEP 90
Our large-scale systems include a wide range of solutions for the decontamination of people, equipment and clothing, large devices and vehicles as well as infrastructure and interiors. Their positive response is reflected in many of our long-term projects. In particular, the TEP 90, one of the largest projects in terms of system size and order volume in the CBRN sector, is used for decontamination and disinfection, using state-of-the-art decontamination technologies and equipment.
The TEP 90 is a highly mobile, rapidly deployable system for CBRN decontamination, which consists of 4 modules. These modules can be used independently of each other and contain all necessary components to perform an operationally optimized decontamination on site. For the decontamination of heat resistant equipment the TEP 90 is equipped with a hot gas chamber. Sensitive and electrical devices are disinfected using vacuum technology. A special feature of the TEP 90 is the 33-tonne loading crane, which enables the successful decontamination of larger vehicles.