Decontamination of infrastructure and interiors
In many cases, incidents involving contamination also affect the interiors of vehicles, buildings and vital infrastructure. We therefore offer you suitable concepts, equipment and chemicals for the decontamination of surfaced road sections, vehicle interiors and parts of buildings.
Technology for interior decontamination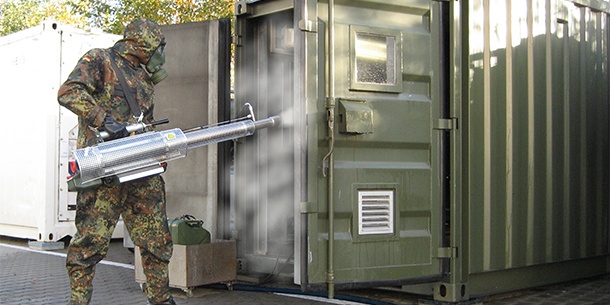 Aerosol
Our aerosol generator can decontaminate, disinsect and disinfect interiors. The decon agent is broken up into fine aerosol droplets and transformed into a suspended mist. This mist is sprayed into the contaminated interior, where it reaches even the tiniest holes and corners.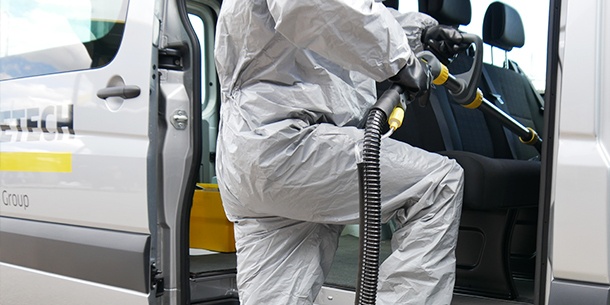 Spray extraction
Liquid decon agent is applied to the contaminated surface and extracted again during application. Our spray extraction units enable you to dissolve, deactivate and remove contaminants in a single operation. Since residual moisture after decontamination is extremely minimal, cleaned surfaces are soon ready for use once more.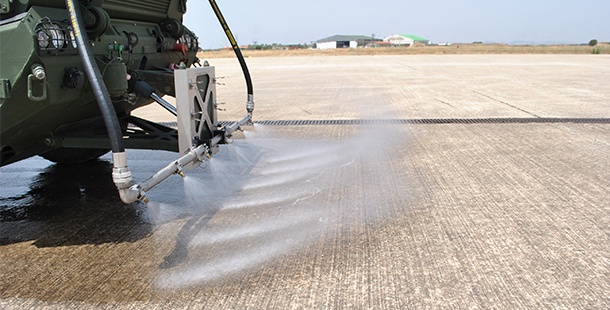 The principles behind road decontamination
Road decontamination minimises the risk of contamination being carried or transported into other areas, and limits the further spread of contaminants. Many of our decontamination systems already include a spray beam on their vehicle for this purpose, or a detachable spray beam kit can be fitted to the front of the vehicle.
The aqueous or non-aqueous decon liquid is sprayed by the device on the front of the vehicle, enabling stretches of road to be decontaminated while driving along at walking speed.
Discover our large-scale systems, which not only cover the decontamination of infrastructure and interiors
Would you like more information on the various procedures?