Decontamination of equipment and clothing
In the event of a major disaster, the availability and replacement of personal protective equipment, detection devices and other items that are crucial to the mission is mostly severely limited. If equipment is contaminated the risk of it being spread by these items of equipment - with potentially fatal consequences for personnel - is high. We therefore offer various technologies for decontaminating protective clothing and equipment, and these are specifically adapted for the different characteristics of your personal equipment.
Decontamination adapted to your equipment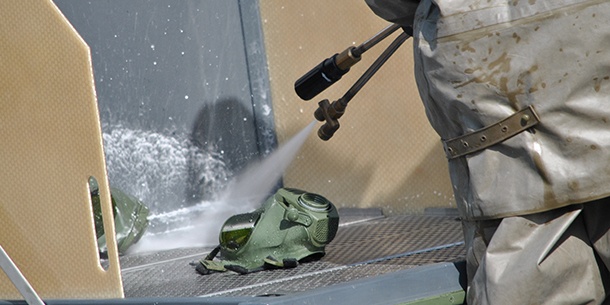 Chemically resistant equipment
Wet chemical decontamination is used on equipment with particular resistance, such as masks and impermeable protective clothing. The process can be employed for chemical, biological and radiological/nuclear contaminants.
First of all, the surface of the item is pre-cleaned with partially pressurised water, then treated with suitable decontamination agents. Finally, the agent and any reaction products are removed with partially pressurised water or hot water, ensuring decontamination.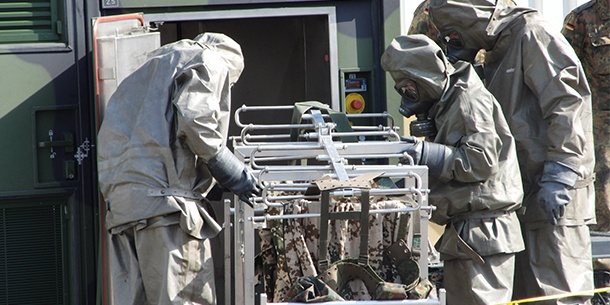 Heat-resistant equipment
Hot gas decontamination technology is used on heat-resistant items of equipment, such as protective clothing, and removes or deactivates chemical and biological contaminants.
The hot gas decontamination process in our units uses temperatures up to 170 °C and decontaminates objects with a combination of thermal energy, steam and air exchange, entirely without the use of chemical decontamination agents.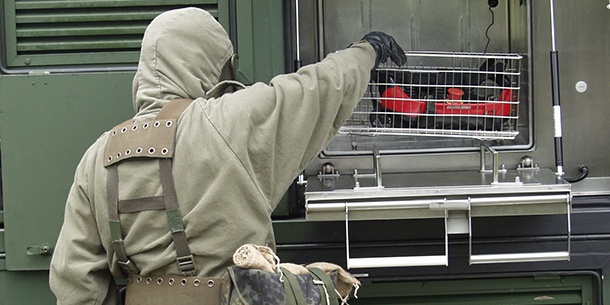 Sensitive equipment
Using vacuum decontamination technology it is possible to decontaminate sensitive equipment that is not resistant to heat or chemicals, such as electronic devices. The process removes or deactivates chemical and biological contaminants.
Chemical contaminants are removed in the chamber by building up a high vacuum and using a relatively low level of thermal energy. Thanks to this use of vacuum combined with heat, the biological decontamination process needs only very minimal quantities of a gaseous biocide.
Discover our large-scale systems, which not only cover the decontamination of equipment and clothing
Would you like more information on the various procedures?