Modular rapid response kitchen
Custom-made rapid response kitchen. The modular rapid response kitchen KRR 50 is quick to set up and ready for use in just a few minutes. The different functional boxes can be used either as individual modules or in various combinations, to suit your needs.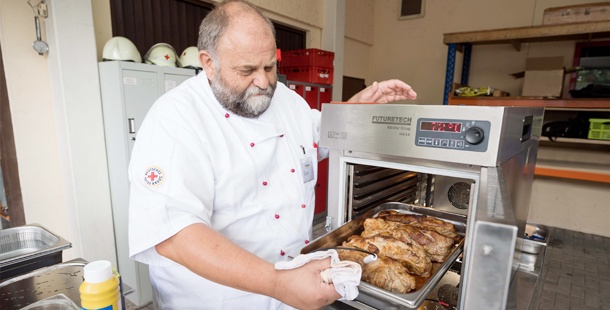 As individual as good taste
The KRR 50 rapid response kitchen is specially designed for scenarios where little or no infrastructure exists. With the KRR 50 modules all cooking methods are possible, such as cooking, boiling, stewing, gentle steaming, frying, baking and convenience food heating.
With the "Cooking" functional box, for example, you can prepare menus for up to 50 persons, or simple dishes for up to 75. The rapid response kitchen is suitable for use as a stand-alone cooking line or as an extension to existing field kitchens.
5 advantages of the rapid response kitchen
Fast and easy transport
Small space requirement
Maximum hygiene standards
Versatile and can be combined as required
Transport casing becomes a worktop