Rapid Response Kitchen on Tour
In June 2018, our Kitchen Rapid Response KRR 50 was on tour at events with the DRK Denzlingen and the Kraubath Volunteer Fire Brigade. In addition to the great dishes that were prepared together, there was the opportunity to exchange ideas and share cooking tips with one another.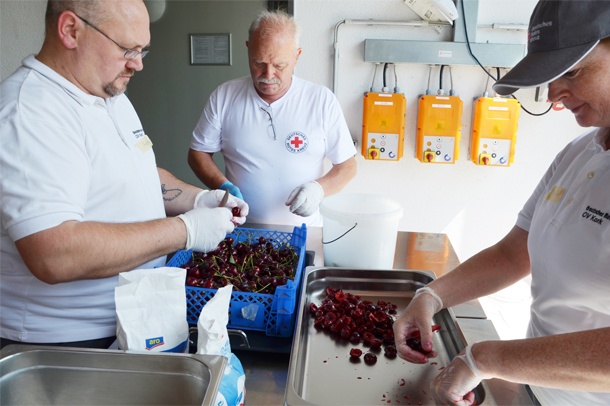 Cherry Crumble made with Original Denzlinger Cherries
After a sunny start and a brief introduction, fourteen participants at the DRK event in Denzlingen explored the various KRR 50 operational boxes while tasting the freshly baked pretzels and pretzel sticks from the combi steamer component.
Together with our Kärcher Futuretech team, the participants set up two components, including the ceran and induction ersions of the cooking module and also set up another combi steamer component ready for operation. The vegetables were diligently cut, cherries stoned and meat seasoned resulting in a menu of vegetable spaghetti and a variety of vegetables with roast pork. The highlight was the cherry crumble with original Denzlinger cherries prepared in a combi steamer.
In addition to cutting vegetables and roasting meat together the participants discussed the new gas version of the KRR "cooking" operational boxes and our new MFK 2 modular Field Kitchen.

Cooking with a Mountain View
At the volunteer fire brigade in Kraubath an der Mur (Austria), a total of 33 participants from the fire brigades of Voitsberg, Knittelfeld, Bruck an der Mur, Leoben and the Austrian Red Cross Leoben were able to operate and try their hand at cooking with the different operational boxes of the Kitchen Rapid Response modules.
Together we conjured up an excellent menu with traditional Swabian spaetzle (pasta) and dessert. The day gave everyone the opportunity to exchange valuable information and discuss the possible KRR uses. The simple design of the operational boxes and their uncomplicated operation left a lasting impression on all participants.