Our systems in action against the Coronavirus
The novel coronavirus, also known as SARS-CoV-2, is spreading worldwide.
All over the world our systems are in use against the coronavirus.
The German Armed Forces produce disinfectant for Bavaria in cooperation with the THW
The CBRN defence force of the German Armed Forces produces disinfectant on the premises of their university in Bavaria in cooperation with the Federal Agency for Technical Relief (THW). The systems of the German Armed Forces first purify tap water before adding various chemicals.
Up to 6000 litres of disinfectant can be produced per hour, whereby a total of up to 200 tons shall be produced. The THW is supporting the German Armed Forces by having built a temporary filling unit and by transporting the disinfectant after production and distributing it throughout Bavaria.
The CBRN Defence Centre of the Austrian Armed Forces enables the reprocessing of FFP protective masks
Protective masks are only available in limited quantities due to the Covid-19 crisis. For the various operational organisations in Austria, scientists and experts at the CBRN Defence Centre have developed a procedure to disinfect FFP-2 and FFP-3 protective masks after use and thereby make them reusable. For this purpose, the Austrian Armed Forces Competence Centre makes use of the decontamination system "Mammoth", which allows the disinfection of protective masks by using hot steam.
The first step of the process is a detailed inspection to sort out damaged and visibly soiled masks. The remaining masks are disinfected for 60 minutes with hot steam at a temperature of 100 degrees followed by another visual inspection, shrink wrapping and their returning to the respective organization.
Through this process and other assistance, the CBRN Defence Force supports the Austrian population.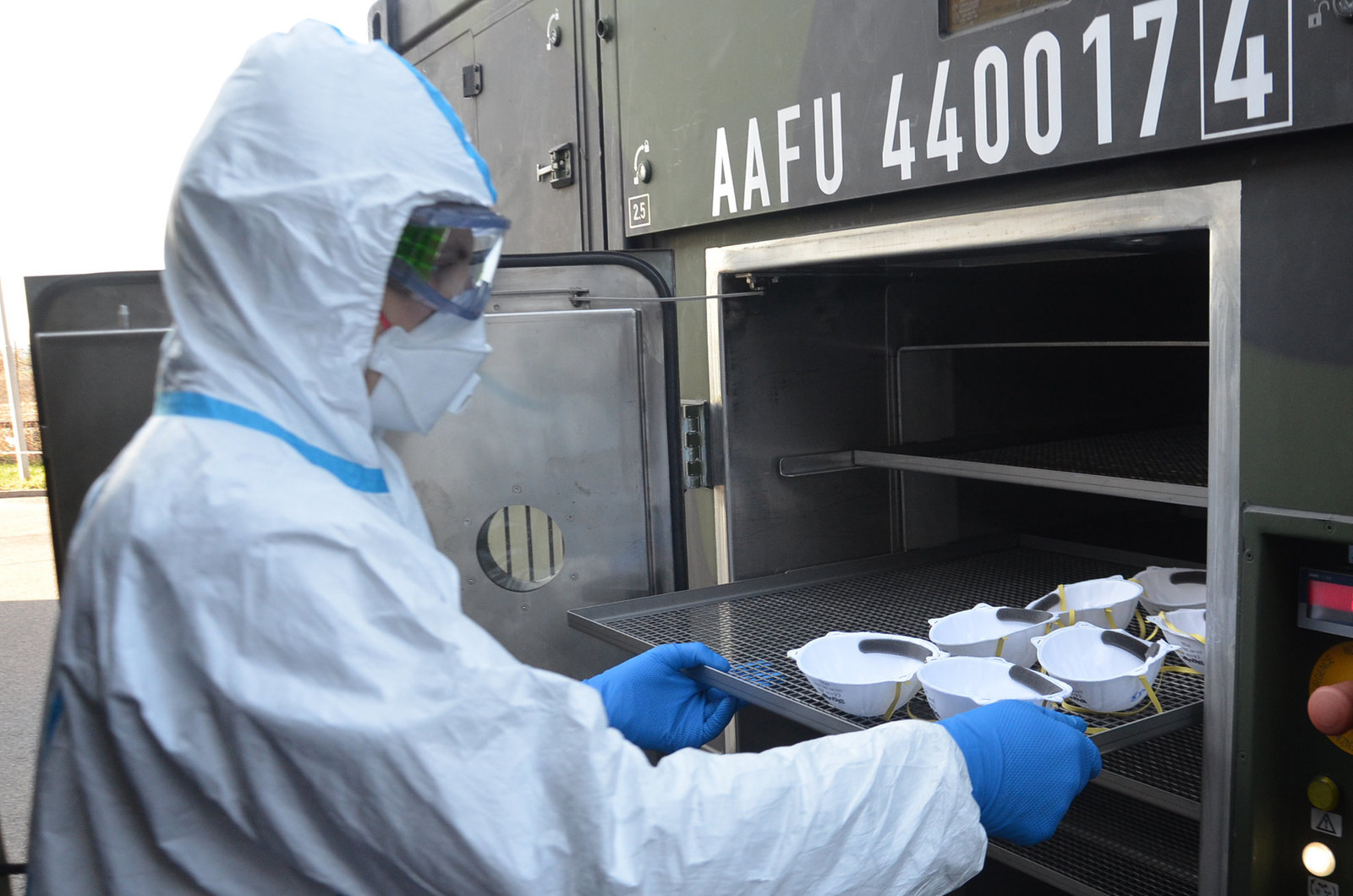 Vietnamese armed forces disinfect parts of Hanoi
To stop the spread of coronavirus, the Vietnamese army disinfects streets in entire districts of Hanoi.
More about the operation and pictures can be found here.
The Royal Army of Oman disinfects roads, vehicles and public places
The Royal Army of Oman (RAO), represented by the Sultan's Armed Forces engineering unit, has ramped up its preparedness level to play its part in the efforts to combat the spread of Covid-19, conducting a disinfection of roads, vehicles and public places across the Sultanate using the Decocontain 3000.