International Workshop on Field Camp Services
Kärcher Futuretech brings users and manufacturers together for discussion
Current and future requirements for the design of field camps as well as solutions and product innovations were the focus of the international symposium titled "Life Support Solutions - Field Camp Services" which took place on the 26th and 27th of June, 2019 in Schwaikheim near Stuttgart, Germany.
More than 100 international participants, mainly from the military sector, accepted the invitation from the Förderkreis Deutsches Heer (FKH) and Kärcher Futuretech to learn more about the current developments in the area of field camps.
An intensive programme of speeches by proven experts from Germany, Austria, Sweden and Canada offered interesting insights into the various field camp concepts of modern armed forces. The presentations were followed by moderated discussion rounds with the opportunity to ask questions and make comments. The conversations were continued into the evening at a joint barbecue, in which Hartmut Jenner, Chairman of the Management Board of Alfred Kärcher SE & Co. KF, warmly welcomed the participants at the Irene-Kärcher-Plaza in Winnenden.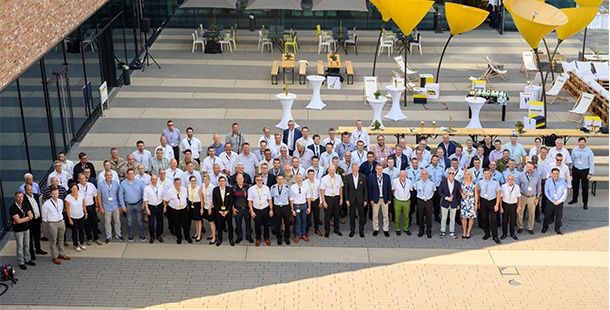 Accompanying the workshop was an exhibition of key industrial companies organized at the Kärcher Futuretech headquarters. The participating companies, including: Kärcher Futuretech, Beth-El, Dantherm A/S, DREHTAINER, Ecolog, Gocher Fahrzeugbau, M.Schall and Palfinger, were able to present their current product solutions at their stands while talking to important customers and decision-makers.
The exhibition itself demonstrated how the interplay of technical expertise can look when setting up modern field camps. For example, M.Schall provided all the tents required for the symposium, while Dantherm A/S supplied air conditioning for the tents, which provided an exceptionally refreshing break from the outside temperature of approximately 36 degrees. Ecolog cooked for the guests on Kärcher Futuretech field kitchens and other participants contributed to the success of the exhibition with live demonstrations of their products.
"The joint workshop with the Förderkreis Deutsches Heer (FKH) was an intensive and successful workshop. The change between product presentations from the different industrial companies and lectures made the workshop more lively and varied. A successful format that will certainly be repeated."
Sums up Markus Barner, authorized signatory and Head of the Sales and Marketing Department, at the end of the two days in Schwaikheim.